Mission Statement
To promote physical, mental and spiritual wellness through yoga to people from all walks of life.

Yoga has been practiced for over 5,000 years. It helps create the link between mind, body and spirit. When practiced regularly the postures (asanas) and the breath (pranayama) will produce a healthy body and will calm and center your mind and spirit.

With today's hectic pace it is important to find a lifestyle that will nourish. To do this people are searching for a way to reduce stress, to stay in shape, to add fun and enjoyment to life and to maybe even loose weight. Patanjali, an ancient sage, says, "Yoga is the cessation of the fluctuation of the mind." Through Yoga we can have more calm and we can re-connnect to a deeper self.

How Will I Feel After Yoga?
After a Yoga class, some students feel like they've received a massage, very relaxed and calm, or others have stated that they feel energized, ready to greet a new day with a clearer and more focused mind. Either way, Yoga is a very rewarding practice that enhances your life.

What If I Am Not Flexible?
It doesn't matter. Yoga is not some ultimate physical goal, it's being in the moment. The asanas and the pranayamas are designed to hold your attention, flexibility comes with practice. The important thing to remember is to listen to your body when you're practicing, notice the subtle changes that occur in your body and to not push yourself too hard. Injury has never increased anybodies flexibility, strength or endurance.

Winter Park Yoga currently has two main instructors, co-owners Laura Daniel and Krystal Magwire.

"My purpose in Yoga as teacher is to share and assist students to find a path that fits them, to help them find what works best for their body, not to fit them into any pre-determined mold. I want to help them find a yoga practice that will enhance their lives." – Laura Daniel

Currently Winter Park Yoga is offering a variety of classes weekly, Beginners Hatha, Beginners II Hatha, Kundalini, and Ashtanga Classes. More classes are being added as they are needed. If there is a particular time you think would be great for a class, let us know and we'll see what we can do!

If it is your first time to Winter Park Yoga, please arrive at least ten minutes before class for information and for sign up.

What Should I bring?
• Yoga mat (Studio mats are available, but the student is encourage to use their own)
• Loose clothes that allow for movement
• Bare feet
• Towel and a strap might be useful
• A good spirit to learn and enjoy
• An empty stomach, please refrain from eating for at least two hours before class

What Should I leave at home?
• Any strong fragrances or perfumes
• Any pagers or cell phones (or please turn off)
Where is Winter Park Yoga?
325 S. Orlando Ave. (17-92) in between Fairbanks and the Winter Park Village on the west side of the avenue. It's in the same complex as the Black Bean Deli and is across the street from Burger King. You can reach us at 407.647.9642 or find us on line at www.winterparkyoga.com.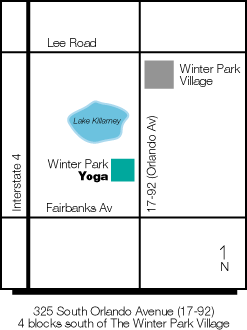 325 S. Orlando Avenue, Building 1, Suite 8, Winter Park, Florida 32789 407 647 9642